We are located at the entrance to the beautiful Annapolis Valley in Nova Scotia, on the east coast of Canada. Here on 1 1/2 acres our dogs romp and play in the winter snow, and sleep in the summer sun.
We are Code of Ethics breeders and members of the Canadian Kennel Club and the Rottweiler Club of Canada.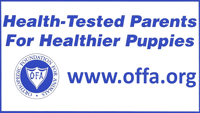 Our dogs are loved members of our family. They are raised and live in the house with us--constantly underfoot, and we wouldn't have it any other way! 
We are very proud of our dogs and their accomplishments, and enjoy sharing this with others. However, more important than any ribbon or title is the life we share with them daily.
We hope you enjoy your visit to our 'home' as you meet our Rottweiler family. We invite you to return often as we update our website frequently.  
Dale MacMillan & John Ring
Eisenberg Rottweilers
Nova Scotia, Canada


A ROTTWEILER IS......

...that cold moist nose in the morning,
next a lick across your cheek.
You try to hide in the blanket,
but he thinks it's hide & seek.
...those sad brown eyes, the ears held back,
the head that's hanging down.
for you raised your voice to scold him
while your face conveyed a frown.
...that faithful friend that sleeps so close
and watches all the doors.
You needn't worry where he is,
'cause you can always hear his snores.
...keeping those memories of devotion
that's filled with loyalty...
and always that 'tug at your heartstrings'
from this canine Royalty.
Jan Cooper, 1990.
Permission for use granted by the author 2009.